Musical biography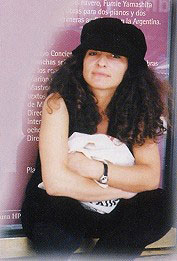 She is born in Argentina, where she carries out her formal studies. She graduates as Superior Piano Professor and, at the same time, she studies harmony and counterpoint with Sergio Hualpa and musical analysis with Francisco Kröpfl.
But Fedora Aberastury, who created the Conscious System for the Technique of Movement - a discipline that resumes the relationship between thought and action, starting from the conscious development of energetic centers – is the turning point in her formation.
In her country and abroad, she has been awarded several scholarships for further training, among which the one of the outstanding Bloomington School of Music.
Since 1980, she regularly performs both in solo concerts and in chamber music ensembles, in festivals and recordings. Her repertory includes authors like Bach, Beethoven, Mozart, Schubert, Schumann, Chopin, Brahms, Ravel, Debussy and several other classic composers.
Since 1985, she widens her repertory with the classic contemporary musicians from the Vienna School. In 1990, with Arnold Schönberg's Pierrot Lunaire, she opens the Experimentation Centre of the Colon Theatre, conducted by Gerardo Gandini.
In 1993, she begins her presentations in Germany, France and Spain where she continues developing her professional activity. At the same time, she actively engages in the organization of concert cycles in her country, covering classical music, tango, folklore and jazz. Because, keeping pace with her evolution as an interpreter of classical and contemporary music, Saiace turns toward a different repertory highlighted by the presence of XXth Century  Argentine, Brazilian and French composers, opening the borders between classical and popular music.
Her Diario de Pianista (Pianist's Diary, Melopea Records, 1992) an anthology for piano solo, clearly exposes this position. Recorded in Paris, her third CD includes compositions by Piazzolla, Salgán, Guastavino, Gismonti, Nazareth, Flores, Aguirre, Satie and other composers. That same anthology, on a version widened by compositions of her own, belonging to the play Nostalgias, Tango para Cuatro (Nostalgias, Tango for four) – presented for the first time at Dresden, in 1999 – will be the main part of the concert Saiace will perform in Köln.